Welcome to the KJ boys newly designed website, we hope that you like it, and it is easily navigated. We will try to keep it updated wtih a schedule of live performances, photos, music, news, and hopefully some videos. If you would like to contact us you can do so by calling 864 - 490- 3260, or you can e-mail us at kj1611boys@gmail.com. Also, be sure to sign our guestbook, and thanks for stopping by, God bless!
***Thanks to Les Butler, the Singing News, and Dollywood for having us back again this year to Dollywood's BBQ and Bluegrass Festival!!***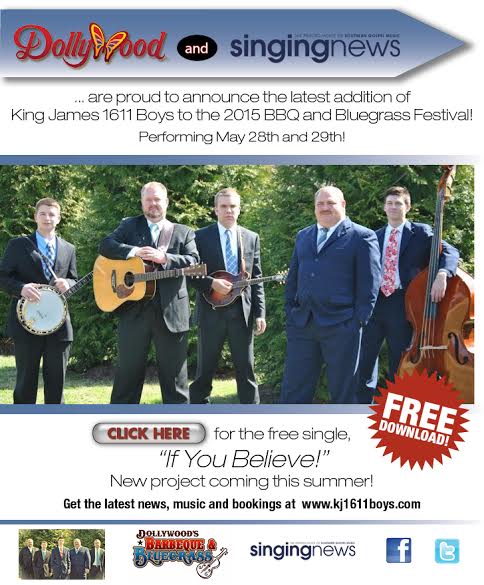 **The new CD is here, "20th Anniversary Edition"! 20 songs on one cd, songs from the past 20 years. Call your favorite radio station and request to hear it, also if you would like to order call 864-490-3260 or e-mail at

kj1611boys@gmail.com

***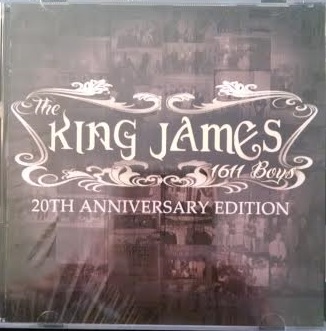 Just want to take time to thank www.powergrassradio.com and it's listeners for voting the King James boys "Emerging Group of the year", thanks! and be sure to check out Powergrass Radio.
video of the band performing He's Still Setting My Place at the Table

Thanks to everyone that has made "I'm a King James Bible Man" a top 50 bluegrass cd on 88.7 WNCW Going across the mountain, the premierebluegrass and gospel bluegrass station in the southeast!

click here to play video of KJ boys in Pigeon Forge, Tn.

"I believe the King James boys are the real thing, sincere, dedicated and committed to praising God through song and testimony, so get ready for it " Inspiration " is on the way, from the first song to the last! I count it a priviledge to know this group, we've been blessed to have been on the same concert schedule with them at times and may God continue to bless their effort, and keep them safe in their travel. May they live a life for God that He can continue to use them for His honor and glory.
" Paul Williams "

A few true words about "the KJ 1611 boys"
First of all, I just want to say "thanks" for being such good friends and for the great service to God that you do. This group has sang at several bluegrass gospel concerts that I have arranged and I think it is safe to say that everyone that attends didn't go home without being touched or blessed by this groups singing. Before this group came and sang for me several people said they didn't much care for bluegrass gospel and after hearing them sing, they changed their opinions (they keep asking for them back). These men, besides sing about the Lord, present Him in testimony from their hearts and truly know the God they sing about. They mesh together and their humbleness as a group you can truly feel and they aren't just thrown together but brought together by God. If everyone in bluegrass gospel were like theseguys, you couldn't keep from loving and listening to bluegrass gospel music. Thank you again, and you are welcome at my house to sing and worship anytime.
Jimmy Strange, Bluegrass Gospel Hour